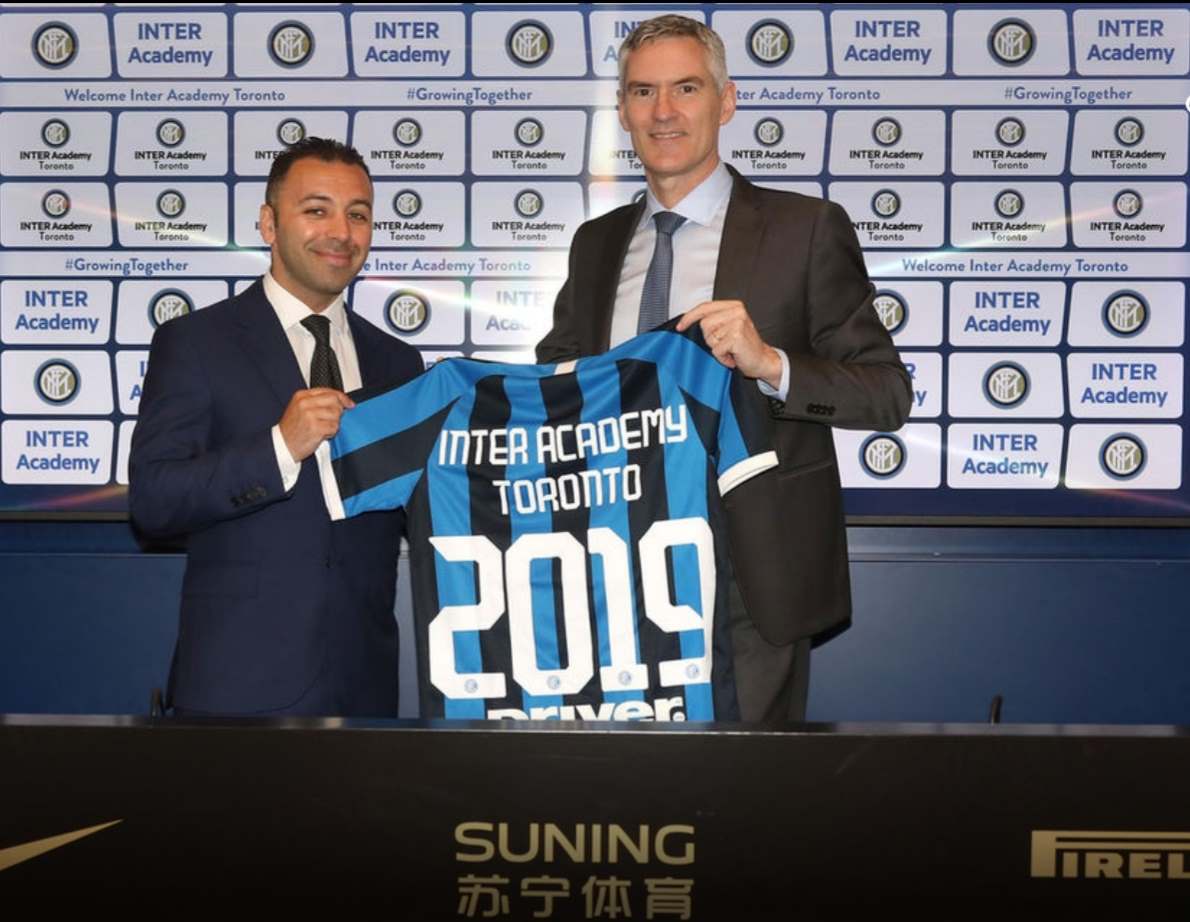 INTER ANNOUNCES ACADEMY IN TORONTO
INTER ANNOUNCES ACADEMY IN TORONTO, CANADA  – July 12, 2019
"The birth of a new overseas project was made official inside inter's HQ
MILAN – A new adventure has begun for Inter Academy, which i celebrating the birth of a prestigious overseas project, the first permanent undertaking on Canadian Soil. Football is now a sport which is practiced the most by youngsters – both male and female – in Canada, and this marks a further step towards North America for the Nerazzurri after their positive participation in the coaching conference at Stanford University and the United Soccer Coaches Convention in Chicago.
Inside Inter's HQ, Chief Executive Officer Corporate Alessandro Antonello and Chief Marketing Officer Luca Danovaro met Inter Academy Toronto's General Manager Beniamino Perretti to officially sanction the start of the partnership in Canada. "It's with great satisfaction that we present this project, which makes us key players in Toronto," Alessandro Antonello said. "and it will also allow a common growth based on the sharing of our technical know-how as we train coaches and
youngsters

 in their country. High technical but also ethical standards will be the basis of this partnership. It represents a new, important step for the Nerazzurri colours on the world wide scale."
"We are really happy and honoured to welcome a glorious Club like Inter to Canada," commented Beniamino Perretti.  "Having the opportunity to share the values and methodologies of the Nerazzurri's elite Academy and to put them at the disposal of our young players is cause for great enthusiasm. I am sure it will be an extraordinary journey."
The technical activities with a number of opening days lasting a week. The inauguration of the Academy will take place in October in Toronto with a Nerazzurri ambassador set to attend.